PRESS RELEASE: Bernie Little Distributors Celebrates New Facility with Groundbreaking Ceremony
02/11/2021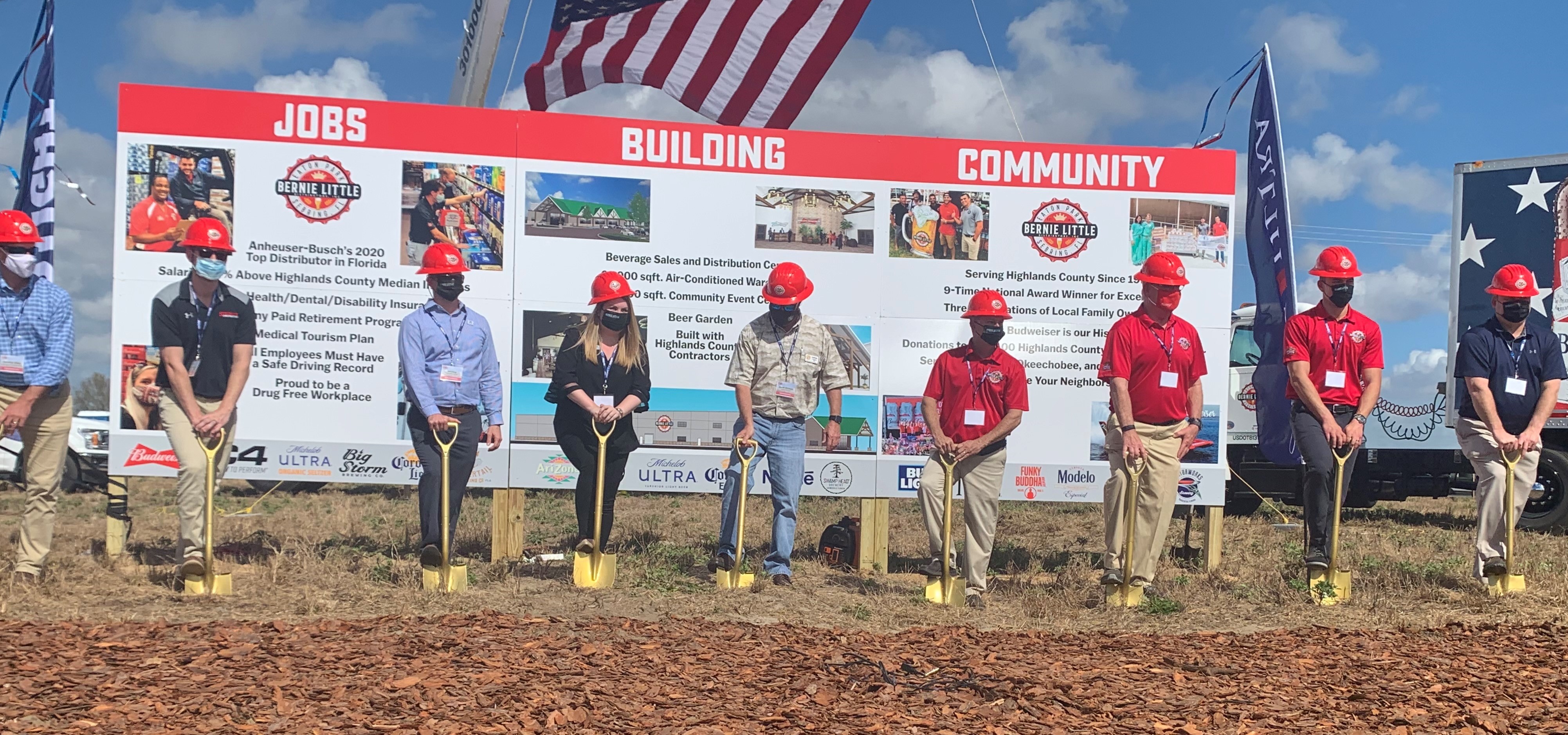 SEBRING, FL (Feb. 11, 2021) – Bernie Little Distributors hosted a groundbreaking ceremony on Thursday to commemorate the start of a major expansion project in Sebring, following the acquisition of approximately 40 acres along the Sebring Parkway last year.
Bernie Little Distributors, serving Highlands County since 1972, is the wholesaler for Anheuser Busch and other specialized local and national craft beers that distributes to Polk, Hardee, Highlands and Okeechobee Counties. The company opened their Sebring distribution center in 1985. Anheuser-Busch's 2020 Top Distributors in Florida, Bernie Little Distributors employs more than 40 people and delivers beverage products to over 400 retail accounts in Highlands County. Built on three generations of local family ownership, the company donates to over 100 Highlands County charities each year.
"Congratulations to Bernie Little Distributors and Highlands County on this great step forward and new capital investment," said Secretary of Commerce Jamal Sowell, President and CEO of Enterprise Florida. "We welcome this milestone for a great Florida company."
The expansion project entails the new construction of a more than 100,000 square foot state-of-the-art distribution facility including a 63,000 square foot air-conditioned warehouse and a 9,600 square foot community event center. The expansion is a result of the local distributor needing to nearly triple their footprint after having outgrown their current Sebring facility located off US 98. The expansion also ensures the retention the company's existing local workforce.
"This expansion is a much-needed step in Bernie Little Distributors' trajectory," said Joseph Little, with Bernie Little Distributors. "I want to say thank you to all of our partners, customers, team members and community, for helping make this a reality."
Knowing they needed a larger facility to keep up with years of steadily increasing demand, Bernie Little Distributors contacted Highlands County Economic Development for assistance with site identification in December 2018. The company closed on the land in late 2020, which came after months of meetings with county and community leaders and the approval of rezoning the back portion of the 40-acre parcel to B3 Commercial for site consistency.
"Highlands County is dedicated to smart, strategic economic growth and this retention and expansion project is a great example of our efforts to foster an environment where our existing businesses can continue to grow and succeed" said County Commissioner Chairman, Scott Kirouac.
The event began with a welcome and opening remarks. After a ceremonial groundbreaking, guests were treated to an hour of networking, lunch, product samples, and the ability to view renderings of the new facility.
"This is an exciting day for Highlands County," said Meghan DiGiacomo, Executive Manager of Business and Economic Development. "We're thrilled our office was able to assist in the retention and expansion of one of our community's long-standing companies within one of our targeted industries, logistics and distribution. Bernie Little Distributors' new facility will be an addition to the local tax base and their current facility will be available to market for other new or expanding businesses in Highlands County in the future."
Despite the pandemic, Bernie Little has continued planning efforts for the new acreage. Build-out for the facility is slated for completion by Spring, 2022.
"We look forward to another successful 36 years of business and partnership in Highlands County." said Joe Little, President and CEO, Bernie Little Distributors.

###
For questions contact:
Meghan DiGiacomo, Highlands County Economic Development, 863-402-6906 or mdigiacomo@highlandsfl.gov
OR
Jessica Little, Marketing Coordinator | Bernie Little Distributors, 863-581-3340 or jessica.little@bldonline.com
---
Located in the center of the Sunshine State, Highlands County provides quick connectivity to Florida's major metros with ample room for growth and operating costs that are 12+ percent lower than nearby areas. Highlands offers a competitive business climate with no impact fees, a foreign trade zone and more. Find out more at www.highlandsbusiness.com.
The Highlands County Economic Development works to create an environment where businesses thrive. The office also coordinates the Highlands County Industrial Development Authority / Economic Development Commission, which represents a public/private partnership designed to foster and promote sustainable economic growth in Highlands County.
Bernie Little Distributors is a family-owned beverage distributor serving all of Polk, Hardee, Highlands and Okeechobee counties. With Distribution Centers in both Eaton Park and Sebring, Bernie Little sells and distributes nearly 1,000 various beverage packages, including Anheuser Busch, Constellation, North American Breweries, Nestle, Arizona Teas, Talking Rain, Nutrabolt/C4, along with many other local and national brands.
ADD PAGE
As you navigate our website, you can use the "Add Page to Report" button to add any page or property to a custom report that you can print out or save.