Okeechobee School District's Summer Camps | Employability Skills and Okeechobee Jr Leadership
09/15/2021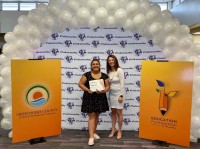 OKEECHOBEE- Members of the Employability Skills and Okeechobee Junior Leadership summer programs celebrated the end of their two week camp at Okeechobee High School on June 18. For completion of the programs, kids who participated received a certificate along with a stipend of $300.
Those who partook in the Employability Skills program worked with CareerSource Heartland and heard directly local employers on what they're looking for when hiring employees. The 9th through 11th graders in the camp also got to practice their interview skills when applying for jobs in the future.
Members of the Okeechobee Junior Leadership (and Employability Skills) summer program traveled around Okeechobee meeting current leaders and getting a behind the scenes look of the day-to-day work that goes into running the county government. That behind the scenes look included stops at the Board of County Commission and a meeting with Judge Bill Wallace at the Okeechobee County Courthouse. (Students unfortunately could not attend City Hall due to health reasons at this time, but they were visited by the new interim City Administrator, Gary Ritter.)
The junior leaders gave presentations to school board members, local business leaders (and fellow camp students) at the end of the two week period on their ideas for things to improve both in Okeechobee and the world as a whole. Ideas discussed in the presentations included promoting food recovery to eliminate waste, improving school lunches, funding the construction of a dog park in the community, and making Okeechobee more inclusive.
"These two camps have been a dream for us for a long time," said Pat McCoy, Okeechobee Schools Assistant Superintendent for Instructional Services. "Okeechobee County Schools always wanted to do more of a partnership with businesses and the community in terms of helping kids be prepared for careers as well as college." "You guys are ground breakers," continued McCoy to students in both groups." These are inaugural programs. I see all kinds of great things in the future for what we started here this summer. I'm so proud of you."
The Education Foundation of Okeechobee helped organize the camps with help from the Okeechobee County Economic Development Corporation and the Economic Council of Okeechobee. The Chamber of Commerce organized a "Small Business Day", taking the kids on a tour of the shops and stores along Park Street in Okeechobee.
The summer camps were put together in a matter of weeks following the school district receiving money to implement more programs for students. Over 80 students applied to fill 15 slots for both of the summer camps. Organizers ended up adding extra sessions to accommodate more students." (Special thank you to the OCEDC Board, Masonic Lodge, and Gilbert Family of Companies for raising the additional funds needed to support 15 extra Employability Skills seats.)
Thank you to all of our board members and partners who helped advocate for this idea. Students were officially certified as effective contributors to the modern workforce thanks to our new Employability Skills program. A total of 25 children graduated and received their certificate of completion.
###
ADD PAGE
As you navigate our website, you can use the "Add Page to Report" button to add any page or property to a custom report that you can print out or save.