Highlands County Named One of the Least Expensive Places to Live in America
07/05/2018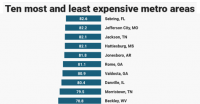 A recent article by Business Insider examined recently released data on personal income and the cost of living from the Bureau of Economic Analysis. The article identified the top ten most and least expensive metro areas in America. The Sebring MSA, which covers the entire county, made the top 10 of least expensive places to live in the U.S.
Not only is Highlands County the least expensive place to live, but a study conducted by Site Selection Group found that operating costs in Highlands County are 10 to 15 percent lower than nearby metro areas. Pair these cost savings with our charming downtowns, 113 lakes, 16 golf courses, and close proximity to most of Florida's largest metros, it makes for a pretty great life in Highlands County.
Read the full Business Insider article here.
ADD PAGE
As you navigate our website, you can use the "Add Page to Report" button to add any page or property to a custom report that you can print out or save.