Highlands County Approves Industrial Revenue Bonds to Support Historic Harder Hall Expansion
07/18/2018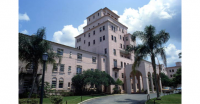 On Wednesday, July 11, the Highlands County Industrial Development Authority (IDA) approved the issuance of industrial revenue bonds to support the renovation and expansion of the historic Harder Hall property in Sebring.

With a 9 to 1 vote, the IDA adopted a Bond Resolution for issuance of not to exceed $45 million Highlands County Industrial Development Authority Senior Housing Revenue Bonds (Harder Hall Project), Series 2018 in minimum denominations of $25,000.00. IDA board member Ray Royce cast the dissenting vote and board members Jim Renfro, Tom Koppein and John Varady were absent from the meeting.

South Florida Senior Living, LL (SFSL) is transforming the site into a senior living community that will feature approximately 75 independent living units, 64 assisted living units and 23 memory care units. Twenty percent of the facility's units will be set aside for affordable housing for lower or moderate-income tenants to meet the federal tax requirements for tax-exempt bonds.

SFSL purchased the site from the City of Sebring in September 2017 for nearly $2.5 million. The building has been vacant since the 1980s. The company is making up to a $45 million capital investment into the rehabilitation and expansion of the site. The project is expected to create more than 60 jobs and is projected to open in early 2020.

No public funds are contributed to industrial revenue bonds, and no government entities, including the county and IDA, are responsible for the repayment or guarantee of the bonds. Industrial revenue bonds are created by the Internal Revenue Code. These bonds provide a source of long-term, below market-rate financing for eligible projects. The bonds are paid solely from the revenues generated by the project or by the company receiving the funds.

The Highlands County Industrial Development Authority is a public agency formed in 1980 by Florida Statute to promote and foster economic development through the issuance of industrial revenue bonds for eligible projects, which are defined by Florida Statute 159.27-5.

"This is a great opportunity for our community," said Janet Barber, IDA chair. "SFSL has demonstrated that this project will provide quality jobs, advance economic prosperity and is appropriate to the needs of our county. The developers involved in the project have successfully rehabilitated several historic properties like this project. Harder Hall is a crown jewel of our community, and we are eager to see this iconic landmark brought back to life."
ADD PAGE
As you navigate our website, you can use the "Add Page to Report" button to add any page or property to a custom report that you can print out or save.