New Manufacturer Locates in Highlands County
06/08/2018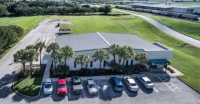 Diversified CPC International has signed a 25-year lease that includes almost four acres of land and an existing 6,000 sq. ft. office building and warehouse at Sebring Multimodal Logistics Center.
The company is is a global leader in the production of specialty gases, aerosol propellants, alternative fuels, NGL refrigerants, and foam blowing agents. The Sebring facility will be an advanced distribution terminal that serves the Caribbean.
Bob Scott, Project Engineer has been coordinating with the Sebring Airport Authority, Highlands County Economic Development, CSX Transportation, and local contractors to finalize the project's multiple facets in preparation to begin construction in June. Details were finalized on the building and property lease within the Sebring Multimodal Logistics Center over the spring.

"Diversified CPC International is here to stay. This investment in Sebring, Florida is a clear demonstration of our commitment to our customers in the region and the local economy," said Scott. "In fact, our general contractor, Wes Abney, and engineer, Steve Dobbs, are both from the region, and Excavation Point, our civil contractor, is from Sebring."
About Diversified CPC International
Diversified CPC International, Inc. headquartered in Channahon, Illinois, is a global leader in the production and manufacturing of the highest quality aerosol propellants, specialty gases, alternative fuels, NGL refrigerants, physical foam blowing agents, and related products available.
Their time-tested technology and customer-driven approach provides the DCPC client with a unique competitive advantage. At Diversified CPC, you'll see a difference every step of the way - from transfer and blending, right through delivery. When their products arrive, you know they are just as pure, consistent, and stable as when they left their processing facilities. In addition to providing quality products, the company maintains an unmatched focus on client satisfaction and offers an array of value-added services. Diversified CPC provides safety and operations consultation, storage tank sales and installation, and supply chain management to help clients meet their safety and operational goals.
In addition to production facilitates in Channahon, IL, additional facilities are located in Sparta, NJ, Anaheim, CA, and Petal, MS. Advanced distribution terminals include Sebring, FL, which serves the Caribbean, and Ajax, Ontario, which serves Canada.
Sebring Multimodal Logistics Center is a 2,000-acre commerce park and airport. Sebring Regional Airport operates the only Community Redevelopment Agency located within an airport and commerce park in the country. The airport is a designated Foreign Trade Zone offering many tax benefits and is home to Sebring International Raceway. Sebring has been named in the State Aviation System Plan as the growth airport for South Central Florida and will celebrate the 15th anniversary for U.S. Sport Aviation Expo in 2019.
ADD PAGE
As you navigate our website, you can use the "Add Page to Report" button to add any page or property to a custom report that you can print out or save.