Local High Schools Connect Students with Industry
11/05/2018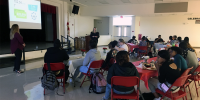 The School Board of Highlands County and other community groups are employing innovative efforts to connect students with real life insight on career opportunities available in Sebring, Lake Placid, and Avon Park, and the skills needed to succeed in these careers.
Career Café Avon Park High School and Sebring High School host weekly Career Cafés. The cafés are unique initiatives that bring local employers into the school to tell the students about career opportunities. The students learn about local businesses and the skills needed to excel in these careers. The focus is on students who are choosing a career path based upon vocational training, on-the-job training, a two-year degree and other high education opportunities. The programs are experiencing great success and demand continues to build from the business community as well as student engagement.
SHS Alumni Career Day In addition to the school-led initiatives, a group of dedicated alumni transcend the hallways of Sebring High School each year for a two-day career experience. The event is designed to connect SHS alumni with students to talk about what life is like in the "real world" and to discuss career opportunities and pathways.
The Highlands County Economic Development office plays an active role in fostering relationships between businesses, the local school system, students, and parents. It is a top priority for the office to ensure that students are aware of the great career opportunities available in Highlands County as well as the skills that are needed to serve the county's target industries.
For more information on the high school career cafés, contact:
Avon Park High School
Sherri Crow, Graduation Coach
863-452-4311, ext. 214
crows@highlands.k12.fl.us
Sebring High School
Deena Wright, College Coach & Teacher
863-471-5500, ext. 311
wrightd@highlands.k12.fl.us
ADD PAGE
As you navigate our website, you can use the "Add Page to Report" button to add any page or property to a custom report that you can print out or save.