Local College Awarded Nearly $2.3 Million for Manufacturing, Construction and Electronic Warfare Pro
11/16/2018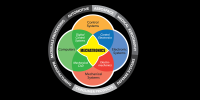 Three new or expanded workforce training efforts will soon be launched in the Florida Heartland region to further develop skills related to manufacturing, construction, and electronic warfare.
The Governor's office recently announced that South Florida State College has been awarded nearly $2.3 million from the Florida Job Growth Grant Fund. The college will use the funds to support the development of job training projects in three areas:
The expansion of the mechatronics/advanced manufacturing curriculum designed to prepare individuals for employment in industrial mechanics and industrial maintenance;
The development of a construction institute intended to provide job training programs in basic building trades and residential construction skills; and
The creation of a job training program for veterans and transitioning military personnel to gain the skills needed for employment as electronic warfare technicians, an identified need in Florida's defense-based industries.

View the announcement press release from the Governor's office here >> http://www.floridajobs.org/news-center/DEO-Press/2018/10/30/gov.-scott-announces-nearly-$30-million-in-awards-for-florida-job-growth-grant-fund-projects
Learn more about South Florida State College at www.southflorida.edu.
ADD PAGE
As you navigate our website, you can use the "Add Page to Report" button to add any page or property to a custom report that you can print out or save.